Welcome to Lookout Ranch!
The current weather at Lookout Ranch can be found at Weather
Take a look around to learn more about Lookout Ranch.
We have pages on its history, the region, and photographs. At the bottom of each page is a link to the next page.
Send Comments to:
For a few photos from our Patagonia trip:

In memory of Trademark, for sixteen years a wonderful dog. October 22, 2007

For info about the most recent Astronomy & Barbecue weekend, travel Here.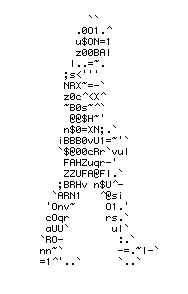 Walking man walked into the public domain in June, 2003
The ranch Background